The Path of Nondual Meditation:
An In-Depth Year-Long Live Online Course with Richard Miller, January - December 2023
Register here and use the code SB50 for a $50 discount!
(you must enter the code at check-out in order to receive the $50 discount)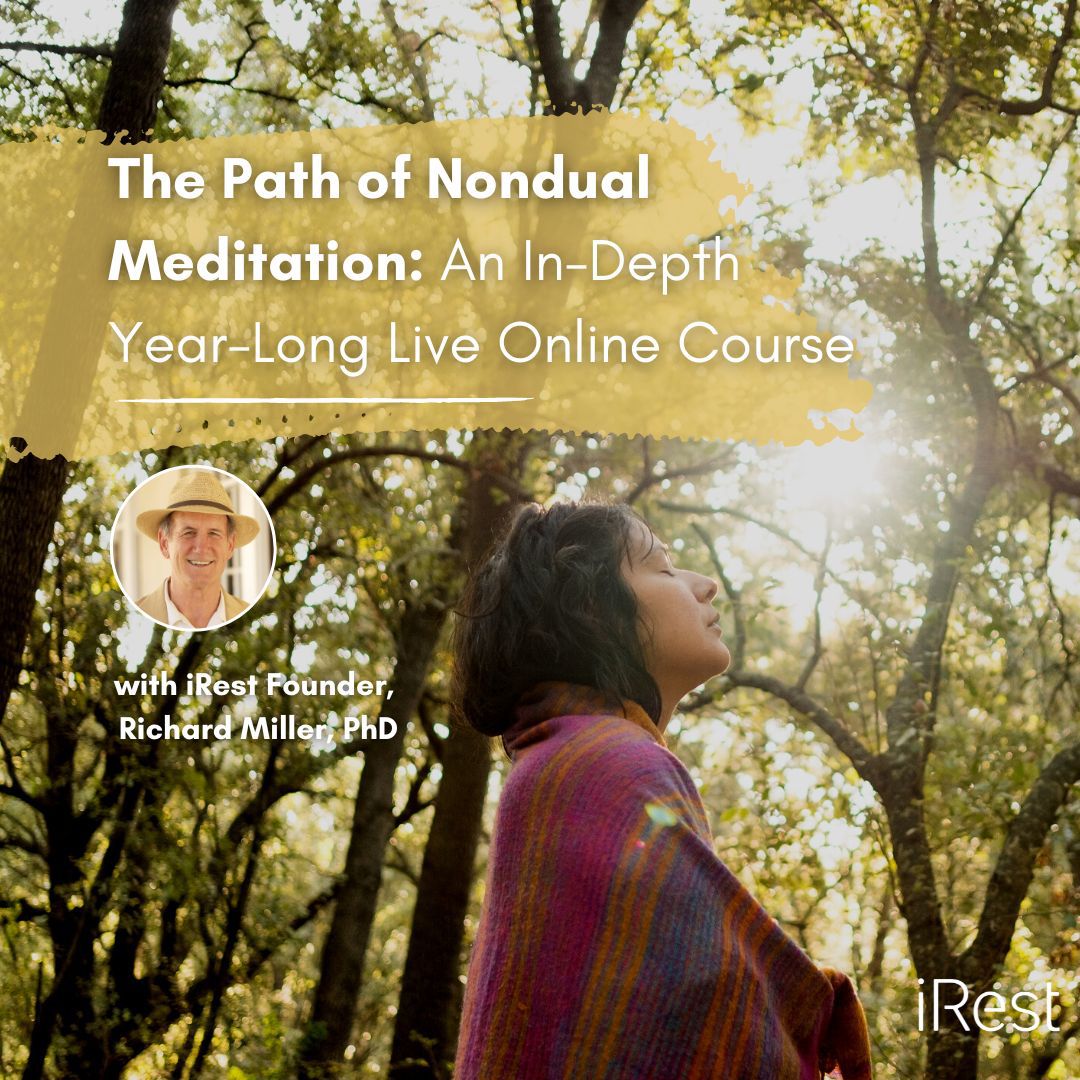 From the Desk of Sherri Baptiste…

Dear Friends,

I know you are busy, I would appreciate a few minutes of your time to consider this Richard Miller Year Long Experience:

The only way to transform your life is from the inside out. The resources you need to navigate daily challenges, including your emotions, beliefs, and thoughts already exist within you. When you understand how to access them, you begin to free yourself.

The Path of Nondual Meditation is a new year-long live online course with iRest Founder, Richard Miller, PhD, teaching you how to start, maintain, or deepen your meditation practice.

Through nondual meditation, you'll realize you are more than your emotions, thoughts, sensations, and beliefs. You'll awaken to feel empowered to make choices in every moment that are in harmony with yourself and the entire cosmos. And you'll recognize your innate Wholeness of Being and Awareness as portals to Self-Realization and liberation of yourself as a unique and not-separate expression of Essential Nature.

If you desire to live each day feeling grounded, relaxed, and loving, join Richard to learn:


How to develop a nourishing and sustainable lifetime practice of meditation
Practices for breaking free from compulsive thinking, emotional reactivity, anxiety, and negative beliefs
How to integrate meditation as a way of life
The transformative power of a nondual meditation practice
How to cultivate an intimate relationship with your body, mind, senses, attention, and ego
The neuroscience of meditation
Being, Awareness, and Presence as portals to awakening and enlightenment
What lies beyond all sense of being a separate self
Whether this is your first encounter with meditation, or you're a seasoned practitioner, this course will support your inner liberation and cultivation of a connected, joyous life.
All participants receive access to a student portal containing additional resources and a chat forum for asking Richard questions and chatting with fellow students.
Note: This course consists of one live two-hour Zoom session each month, for 12 months, and four additional Q&A support sessions. All sessions will be recorded. This course is suitable for all timezones and schedules.

"Richard brings us the practice of meditation with a sophistication and power previously unknown in the West. His nondual teachings and practices are absolutely delicious—simple, deep, and transformative."— Stephen Cope, psychologist and yoga teacher

Register here and use the code SB50 for a $50 discount!


(you must enter the code at check-out in order to receive the $50 discount)

Registering for this recommended Baptiste School of Continuing Education Course, along with successful completion, will also make available CE Credits to maintain and establish new Certifications in the fields of Fitness, Yoga Therapists, Yoga Teachers, Sports Medicine, and Mind-Body-Exercise Professionals. Take this Baptiste Recommended Course simply for your Self, or to inspire, renew and maintain your calling as an instructor, teacher, guide, coach or example and mentor to others.