Location: Marin County California (20 min north of San Francisco)

SHERRI BAPTISTE and SCOTT COLE
Together, Sherri Baptiste and Scott Cole have crafted a refreshing, supportive, and transformative atmosphere. One that is relevant and expansive for your inner wellbeing - body, mind, and spirit. Although some yoga experience is recommended, beginners are welcome.

This one-day retreat integrates renowned time-tested Yoga, breathwork, meditation, mind body fitness and Tai Chi Techniques. While skillfully and gently guided through this day long retreat, you'll practice techniques to nourish the body and balance the mind allowing time to connect more deeply with your own resiliency, inner wellbeing, happiness, joy, enthusiasm, also the beauty of nature.

Whether you are just beginning your journey of discovery, or hoping to go deeper into your practice, this retreat will serve to support your productive energies for the rest of your year; recharged and refreshed, supportive to taking on personal and professional responsibilities with greater focus and joy. A one-day retreat supportive in re awakening and nourishing what is already strong and whole within you.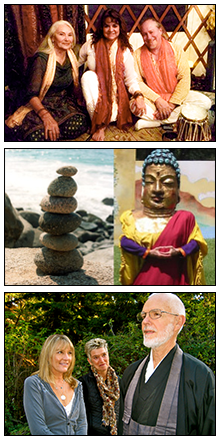 IN THE TRUE STYLE OF THE BAPTISTE TEACHINGS THIS RETREAT INCLUDES:
LIVE MUSIC… provided by Michael Padilla accompanying the morning practices, will awaken and inspire the spirit.
LUNCH IS INCLUDED… provided by Green Gulch Farm Zen Center. Green Gulch is renowned for its organic gardens and vegetarian meals.
A WALK TO THE BEACH… Bathed by the sound of the waves, you'll be skillfully led on a gently paced afternoon walk, through the gardens to the ocean.
THE PRACTICE OF SILENCE… This Beach Walk will cultivate contemplative, thought provoking, restorative, time to focus on your own life-work balance, while also sensing inspired higher goals as you venture forward into the next chapter of your life. Clarity and Peace.
Our time together is all about reconnecting, caring for, while also cultivating a deeper relationship with your Self. A day long retreat to practice and explore tips, tools, and techniques to nourish, balance, restore and maintain balance mentally, physically, and spiritually…. while also cultivating more joy in the journey.


Date: Saturday November 4, 2023
Time: 8:30 am – 5:30 pm
Includes: Full Program
Includes: Lunch Provided by Green Gulch Zen Center Farm
Space is limited to 30 people
COVID PROTOCOL - Green Gulch Farm Zen Center: If you test positive and need to cancel, there is a $95 non refundable portion of your retreat registration cost.
The balance of your registration (minus $95) will be mailed to you.

Retreat will be on: Rain or Shine.
Pricing:
Early Bird - $275 (Expires Sept 29, 2023)
Full Retreat Rate Includes Program and Lunch - $295
Space is limited - Please Reserve now
"Baptiste, as you would expect from her background,
is an excellent teacher. Her instructions and guidance
are both physically exact and spiritually uplifting."
— Yoga Journal




Read what Yogi Times Magazine had to say:
'A Retreat for the Soul'





Yoga Alliance CEU's available on request.