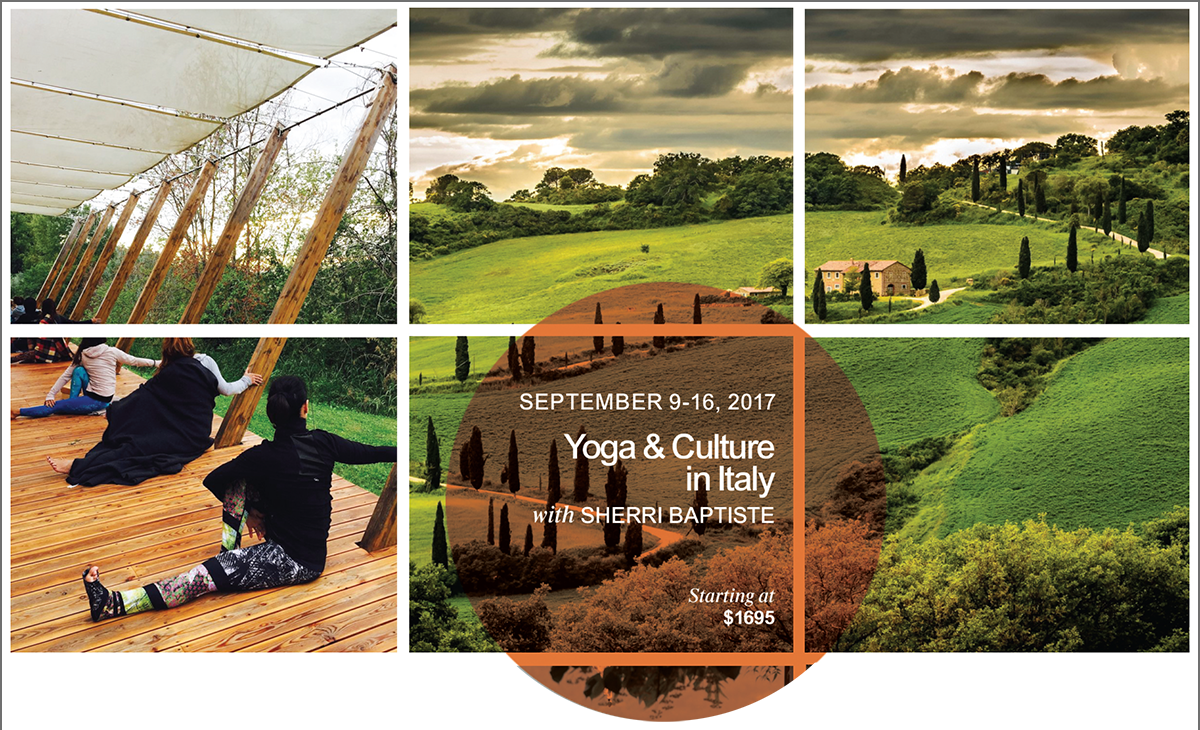 YOGA & CULTURE IN ITALY
with SHERRI BAPTISTE
SEPTEMBER 9–16, 2017

When Inspiration for a Journey such as this shows up – DO IT.

Join us in Italy this coming September 9-16, 2017! This week is promising to be an exquisite and deeply nourishing Italian adventure in the countryside of Umbria. I am including some additional information below, and if you have any questions at all— please feel free to reach out any time.

Located about an hour from Rome in the midst of the Italian countryside are two beautifully restored rustic 17th-century stone farmhouses with just about the most beautiful outdoor yoga platform we've ever seen. The grounds are lush and abundant, with a natural spring, gardens, pond and gorgeous swimming pool. Each room is unique and tastefully designed in a simple, natural style, a combination of old and new.

We have a beautiful itinerary planned, wonderful, well balanced with time to explore and play in this historic Italian Medieval Village of Sabina.

Farm-to-table-meals are prepared by our private chef and enjoyed family-style on a large farm table overlooking the expansive valley below. This region of Umbria is a lesser-known gem with a rich culinary heritage, famous since ancient times for the quality of its food and drink—in particular its olive oil, one of the best in the world. Connect to this rich past through day trips to nearby Orvieto or hikes to nearby medieval villages.

Sherri is a skilled teacher for all levels of ability providing a safe, yet challenging practice for the experienced yoga participants while also offering modifications and variations for the beginners. We encourage participation in the morning yoga, as it builds community also awakening and preparing our bodies for the beautiful day ahead. The Yoga platform is said to be stunning on this property in its beauty, vistas and view. If your significant other would like to join us for this Italian journey, yet not interested in yoga, we do offer the daily class as an option.

Pricing:

Single Room (Only 2 available)
$2695 ($2995)

Shared Double Room
$2395 ($2695)

Shared Triple Room
$2195 ($2495)

Private Yurt
$1795 ($2095)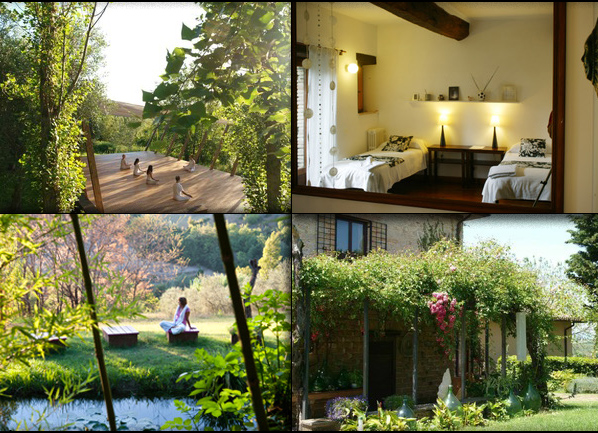 Highlights:

A stay in a rustic, restored 17th-century stone farmhouse

The villas and property reserved exclusively for our group

A stunning outdoor yoga platform

Gorgeous grounds with hot spring, gardens, pond, and swimming pool

Incredible Italian farm-to-table meals (wine included!)

An opportunity to explore an off-the-beaten-path area of Umbria
with a rich culinary heritage

Group day trip to explore nearby Orvieto with private guide

Group hike + transport nearyby medieval villages

Optional Day trips to Assisi and to nearby natural hot springs

Daily yoga with Sherri


Included: 7 nights accommodation, all farm-to-table meals & wine, group airport transfers on day of retreat start, excursion to Orvieto, day hike, all yoga & taxes

Not Included: International airfare, private airport transfers, other excursions, gratuities & travel insurance


To view more details on the trip or to secure your space and your $300 early bird savings you would place your $500 deposit via this link

We look forward to having you with us!




Sherri Baptiste:

Sherri Baptiste yoga, fitness and health expert is an inspirational teacher at the forefront of yoga in the United States. She was born into a rich heritage: She is the sister of Baron Baptiste, and her parents Magaña and Walt Baptiste are recognized as leaders and pioneers in the fields of yoga, health and fitness. (Magaña and Walt are recognized for having established yoga on the West Coast in the mid-1950s) Sherri author of Yoga with Weights for Dummies & Yoga All in One for Dummies (Wiley Publishers 2015) draws from, an in-depth training and background, teaching to all levels in a way that is accessible to everyone.

She is the founder of Baptiste Power of Yoga, a nationally recognized yoga method. Her 'Power of Yoga Advancing Studies and Teachers Certification' programs, including Yoga with Weights: Baptiste Method Online Learning Course that are recognized by Yoga Alliance.

She presents classes and workshops throughout the United States and hosts retreats around the world. She is a presenter for Western Athletics' Bay Clubs, Gold's Gym, Nautilus, Equinox, Fitness SF, IDEA World Fitness, Inner IDEA Conference, Body Mind Spirit, ECA NYC, AFPA, Can Fit Pro, Omega's 'Being Yoga' Conference and Yoga Journal.

She serves as Special Guest Faculty and Retreat Leader for Kripalu, Omega Institute, Tassajara, Esalen, Haramara, Green Gulch Zen Center, Rancho La Puerta Spa, Cal A Vie Spa, Bhakti Fest and Feathered Pipe Ranch. A radio and television personality, she is featured in video, DVD programs that include "Power of Yoga & Meditation."

She is a published writer in Alternative Medicine Magazine, Best Body Magazine, Yoga Magazine, Career Planning and Adult Psychology Development Journals.

www.powerofyoga.com