alt Baptiste, who celebrates his eighty-fourth birthday this September, is one of the pioneers of American Yoga.
Together with his life partner Magana, he also pioneered in the fields of body culture, fitness training, and nutrition. For many years, he was editor of Body Moderne magazine, which today is a collector's item.

Bernarr MacFadded, father of physical culture in the modern world, described Walt as "a constant resource of inspiration to other teachers."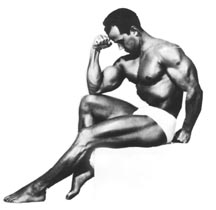 Walt Baptiste as "Mr. America"
It was Walt's uncle Dr. Joseph Baptiste who sponsored Paramahansa Yogananda during his time in the United States.

In additon to her expertise in Yoga, Magana also is an Oriental dancer and for many years toured the United States and Canada with her troupe of twelve.

Walt and Magana's children Sherri and Baron are well-known Yoga teachers in their own right.

Walt started teaching - what he calls "sharing" - at the age of fifteen. Seeing his skillful way with people, his father gave him the use of two rooms in their home, so that he could teach. At age nineteen, his students - most of them much older than he - provided a studio for him in downtown San Francisco where he still lives.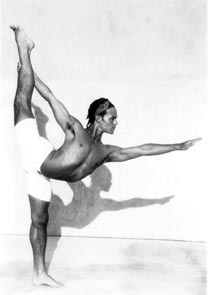 Baron Baptiste



From the outset, Walt combined the pursuit of physical health, fitness, and beauty with the spiritual impulse toward enlightenment
Body Moderne. He was among the first to promote a holistic type of Yoga in the United States, viewing it as a superb practice for "the purposeful evolution of consciousness."

In the early 1930s, Yoga was by and large still treated as an esoteric tradition requiring initiation and membership in a society. Walt opened the doors for everyone and has likely introduced over one hundred thousand people to Yoga.

In 1955, Walt and Magana cofounded the first Yoga center in San Francisco. In 1999 Mayor Willie Brown proclamed September 25th Walt Baptiste Day in San Francisco. Read Proclamation In 1974, he was the opening speaker at the world convocation of spiritual leaders during the Kumbha Mela in Hardwar, India. Meher Baba called him a "son of Light," Swami Sivananda named him "Yogiraj," and Sant Kirpal Singh gave him the title "Maharaj" and authorized him to initiate students into Shabd Yoga.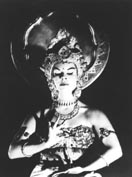 Magana Baptiste, 1970s
Yoga families are rare in the West, and in their dedication to excellence in Yoga the Baptistes clearly are an inspiration to us all.

Reprint of Honoring Walt Baptiste in Yoga World No. 15 by Trisha Lamb Feuerstein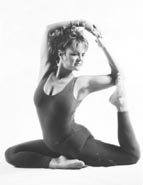 Sherri Baptiste