Join SHERRI BAPTISTE as she shares her wisdom and love of yoga with you.
Sherri has been providing world-class instruction at these Autumn Renewal Retreats since 1999 developing a fantastic weekend program for you. She will skillfully guide you through practices that offer profound life-changing principles of yoga, health and fitness for body mind and spirit, in a simple way that is accessible to everyone, from all walks of life. Some yoga experience is recommended, with all levels of ability welcome.
YOGA POSTURES: Sherri Baptiste will skillfully and gently guide you through each practice, providing ongoing modifications. During practice you will be encouraged to work at your own level of ability.
BREATHWORK: There are many benefits from this natural process, bringing peace of mind, strengthening the body's immune system, slowing biologic aging processes, awakening regenerative energies, balancing the nervous system, and enhancing creative powers. Taught by Sherri Baptiste.
DEEP RELAXATION and MEDITATION: Join Sherri Baptiste for periods of silence and contemplation, orientation to Zen practice and morning meditation with Zen monks.
BRING ALIVE: Great Ancient Wisdom Self Realization Techniques along with Contemporary Science for both practical and personal development. These practices /skills are here to help you achieve personal and professional excellence.
Sherri Baptiste ERYT 500 is an inspirational yoga teacher at the forefront of training in America. Her retreats and teacher training programs provide an empowering, peaceful oasis in a hurried world, a place where students can find within themselves the tools and knowledge to support and maintain a happier, healthier and more spiritual lifestyle.
www.PowerofYoga.com



Special Guest Teacher: Rama Jyoti Vernon
is an internationally acclaimed yoga instructor, International peace mediator and author. She recalls the transformational impact of her early yoga classes with Walt and Magana Baptiste, and holds them both in the highest esteem. In addition to her extensive background in asana and the Yoga Sutras, Rama Jyoti is extremely well versed in the philosophy, lineages and healing benefits of Yoga. Her distinctive method emphasizes opening the body by extending and breathing into each pose as an ever-deepening spiritual offering.

For more information visit: http://www.rama.yoga/

Friday Session:
Rama Jyoti wishes to honor Magana and Walt Baptiste and the Baptiste family for their contribution to yoga in America. Through their work and through their children, they continue to influence the practice and teaching of yoga for generations to come. She will weave the early years of yoga into the practices and current day trends that are expanding throughout the world. In this session, Rama will also introduce the practice of asana with breath as a dynamic self-offering and organic unfolding into a moving meditation.

Saturday Session:
Rama Jyoti will integrate the ancient teachings of the Yoga Sutras of Patanjali into asana practice, and explore how to apply them in daily life. Her unique teaching style assimilates breath, asana, philosophy and one's own appropriate structural alignment. In this session, students will explore the delicate intricacies of the breath as a reflection of spirit and how that can be integrated into a variety of simple-to-more complex poses. The psycho-physiological and spiritual benefits of asana will be explained during the progression of the practice. Emphasis will be on the practice of asana with breath as a dynamic expression and integration of meditation within the postures.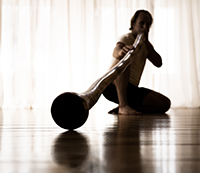 Special Guest Musician: Eric Monkhouse Saturdayholds 20 years of experience in the healing arts, including bodywork, teaching yoga, Reichiapsychotherapy (Licensed MFT) and sound vibration innovator. He integrates each discipline into a unique method which aims to awaken one's infinite potentiality of wellbeing and joy. More info: www.ericmonkhouse.com

Get ready to unravel all your worries and return to your essential Nature, as Eric offers his signature immersive sound experience. He unites the raw, primal and devotional sounds of voice, didgeridoo and harmonium, with the tech wizardry of computer generated binaural beats and live field recordings from his worldwide travels, culminating in an anthemic pilgrimage of the soul.
ACCOMMODATIONS… in the octagonal Green Gulch guest house constructed with traditional Japanese joinery methods.
MEALS… delicious natural food… vegetarian including dairy and eggs, ingredients mostly grown on the farm will be mindfully prepared by Zen Center residents.
MORNING HIKES… Mt. Tamalpais is a source of re-creation in the most literal sense of health, clarity, stillness and beauty.
The forces of nature are powerfully magnetic in this private place and this experience in nature will be deeply spiritual.
EVENING LECTURE… with Sherri Baptiste and Michele Hébert.
Don't miss this opportunity with Sherri and her Special Guest Teachers as they share this deeply spiritual and energizing weekend with you.
View pictures of past retreats.

Seido Lee de Barros Zen Priest and Dharma teacher in Shunryu Suzuki lineage will open our weekends leading you through an informative Zendo instruction, Dharma talk and Meditation.
You'll learn how to enter the Zendo
Sitting and Mindfulness Techniques
Buddhist Zen Meditation Insights
Lee Serves the San Francisco Zen Center, Green Gulch Farm and Tassajara Mountain Zen Centers as Dharma Teacher, Spiritual Adviser, and works with homeless, prisoners and hospice.

Retreat Assistant: Peg Malone has practiced yoga for over 20 years. Introduced to Sherri Baptiste at Green Gulch in 2001, Peg went on to become a certified Baptiste Yoga Teacher, Massage and Yoga Therapist. Assisting Sherri for a variety of Baptiste Inspired Retreats, including a dozen held at Green Gulch Zen Center, she steps into each event with joy of heart, giving her full attention to detail and her commitment to the Yoga of 'Being of Service'.
"Baptiste, as you would expect from her background,
is an excellent teacher. Her instructions and guidance
are both physically exact and spiritually uplifting."
— Yoga Journal




Read what Yogi Times Magazine had to say:
'A Retreat for the Soul'





Yoga Alliance CEU's available on request.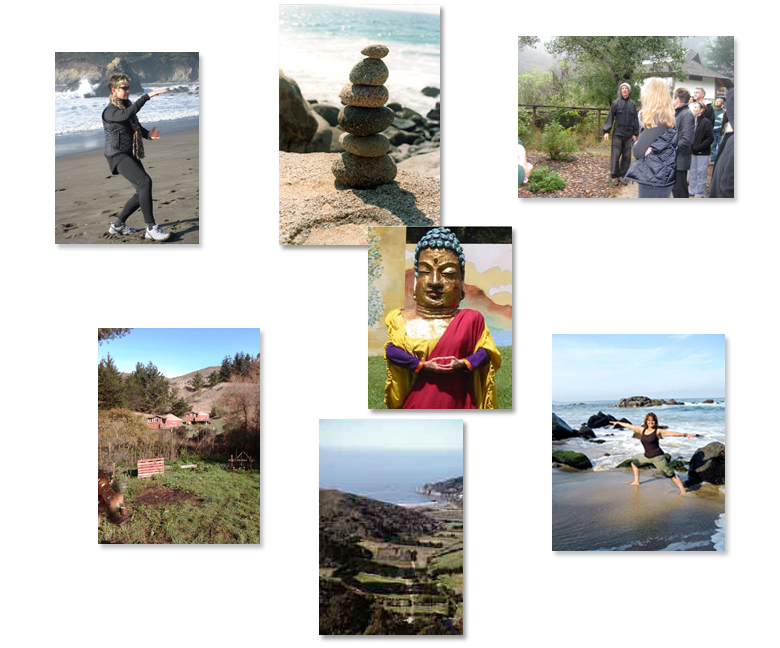 retreat sponsors:



© 2017 Baptiste Power of Yoga, LLC All rights reserved