FULL MOON MEDITATION
with Sherri Baptiste
Tuesday May 17, 7:15 - 8:45pm

Fee $20 Members/$25 Guests
Location Bay Club Marin - Corte Madera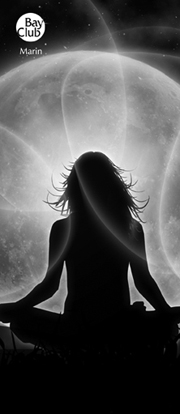 Location: Bay Club Marin-Corte Madera
To Register: Erin at 415-945-3054 or efleming@bayclubmarin.com
Or contact: Sheri Baptiste at 888-804-9642 or info@powerofyoga.com
Physicians, psychologists and other professionals endorse meditation as a powerful tool for relieving stress,
maintaining health and promoting creativity and vitality. Research shows that developing a deep and regular
meditation practice provides positive physiological and psychological bene!ts.
Full Moon Meditation: Meditating at the time of the full moon offers a window of energetic opportunity, one that als
acknowledges the relationship with the universal-force, supportive in your life. Full Moon Meditations also serves
as a symbol to remind you of potential within yourself that knows no limits or boundaries. Meditation cultivates your
connection towards sources of spiritual energy and conscious direction in living. We use the meditation experience
to de!ne and rede!ne our life purpose and focus. Meditation is a conscious practice and deliberate process that helps
to support the collective consciousness within you while opening to the larger perspective of your life with all it's potential.
Diving deep into the world of human spiritual and universal potential the full moon this full moon meditation holds a space
to energetically support authentic individually and as a greater collective in community with the opportunity to share in deep
spiritual practice. This session includes:

gentle hip opening stretch

sitting techniques

breathing techniques to still the body and quiet the mind

the art and practice of relaxation

guided visualization

centering techniques

body scanning with gentle guidance to deepen stillness

self-reflection

meditation with the use of sound

silent meditation
Equipment is provided at Bay Club: yoga mat, blanket and sitting cushion.
Wear comfortable clothes for yoga. All Levels are welcome.
24 hour cancellation policy applies.