July 9-14, 2017
RETREAT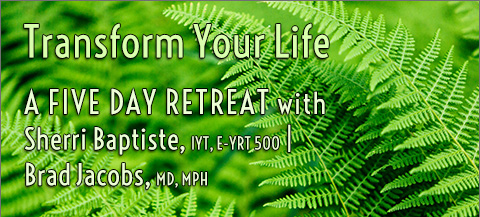 Sherri Baptiste, IYT, E-YRT 500 | Brad Jacobs, MD, MPH
July 9-14, 2017 at 1440 Multiversity, Santa Cruz County, CA
Sunday-Friday, 5 nights | $350 Tuition | CE Credits available
Plus 5 nights all-inclusive accommodations priced separately.
Click here for Registration, and Accommodation information.
May-Nov, 2017 Yoga Teacher Certification
Program

Baptiste Power of Yoga™ in Partnership with
Harmonia Wellness Center & Social Club
Present: Foundations Yoga Training

Yoga Teacher Certification
& Advancing Your Study of Yoga Program
This program will apply toward 200 and 500 hr
Baptiste Yoga Teacher Certification and Continued Ed Programs.
Required weekends: May–November, 2017 Program

Individual Courses are also offered:

ANATOMY AND PHYSIOLOGY with STEVEN KATZ

PRANAYAMA with RICHARD MILLER

THE POWER OF YOGA FLOW™ with SHERRI BAPTISTE

HISTORY, PHILOSOPHY, LIFESTYLE, AND ORIGINS
with KATE VOGT

JOY OF CHANTING WORKSHOPS with GINA SALÁ

ACTIVATING THE FIVE SHEATHS with JILL ABELSON

THE HISTORY OF YOGA 'A VISUAL HISTORY'
with PHIL GOLDBERG

ART OF HANDS-ON ASSISTING
with JILL ABELSON

SANSKRIT - The Language of Yoga with JOSH MICHAELL

Click here for more information and to register
Sept. 9-16, 2017
RETREAT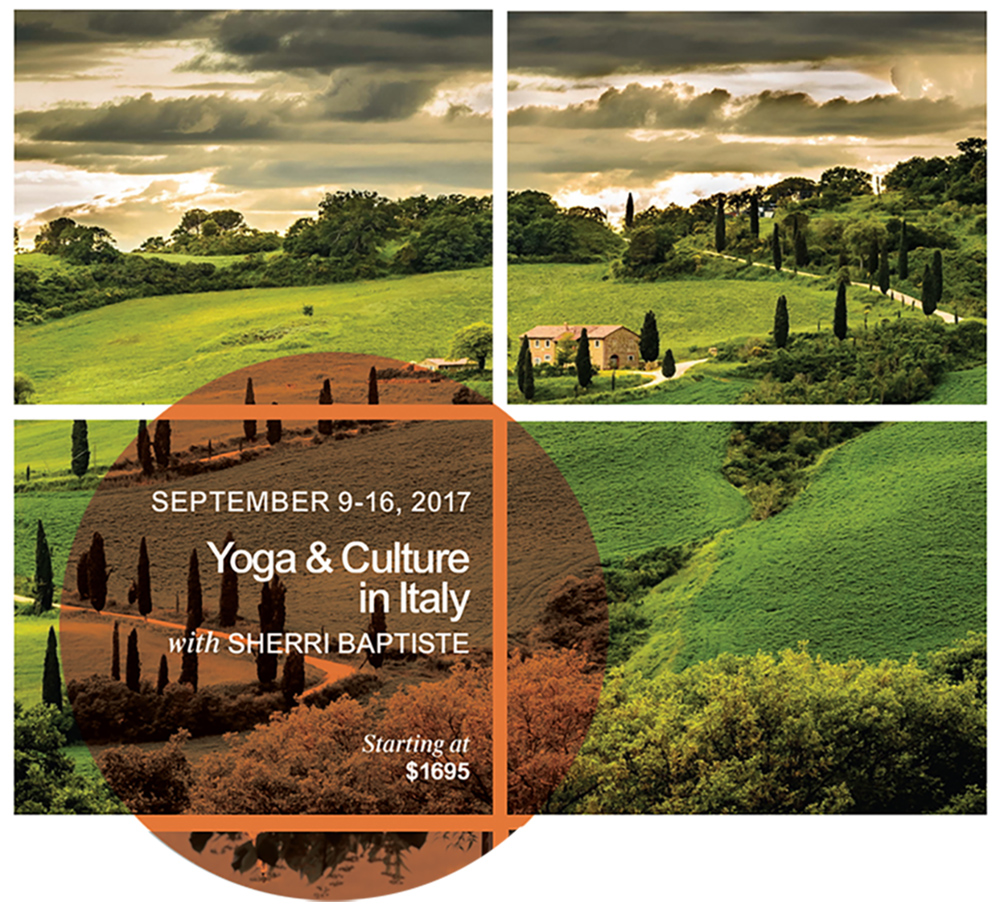 Join us in Italy this coming September 9-16, 2017!
This week is promising to be an exquisite and deeply nourishing
Italian adventure in the countryside of Umbria.

When Inspiration for a Journey such as this shows up – DO IT


Oct. 20 - 22, 2017
RETREAT
BAPTISTE YOGA AND MEDITATION RETREAT
GREEN GULCH ZEN CENTER


October 20 - 22, 2017 Mt. Tamalpais, Marin County, CA

This inspiring weekend is all inclusive and is one of the most popular
"Power of Yoga Retreats". Learn more about this retreat
"The Essential Teachings of Yoga"
with Sherri Baptiste and Rama Vernon

Be sure to reserve your space this retreat continually sales out.


March 3, 2017
12 Weeks ONLINE LEARNING

Yoga with Weights Online Learning
Sign up for the March 3, 2017 session

Registration is limited to 15 participants
Yoga With Weights: Baptiste Method

Join Sherri Baptiste, author of Yoga With Weights for Dummies, for this 12 module online learning program. During the 12 modules you'll learn how to build core stability and improve balance as you exercise, tone, and shape your body. Maximize your workout potential and bring home an inspiring practice that restores energy and keeps you looking and feeling your best.

Read what
Yogi Times Magazine describes as 'A Retreat for the Soul',
one persons experience at the Green Gulch Yoga and Meditation Retreat.