Baptiste Power of Yoga Events, Workshops and Retreats
Events continue to be added throughout the year.
Click for the list of yoga and meditation workshops
JumpStart The New Year

One-Day Optimal Health Retreat
SATURDAY, JANUARY 9, 2016 • 8:30 AM – 4:30 PM
CAVALLO POINT – THE LODGE AT THE GOLDEN GATE

with SHERRI BAPTISTE and BRAD JACOBS MD
Join us at Cavallo Point for our 3rd annual
empowering one-day retreat... read more
The Power of Women Retreat: Courage, Compassion and Beauty
Prana Del Mar, Cabo San Lucas, México



April 9 - 16, 2016
Join Sherri Baptiste & Michele Hébert
for a one week yoga retreat exploring the feminine force.

Learn more about this retreat at the "Feathered Pipe Foundation" Website

This retreat continually sales out reserve your space.
BAPTISTE YOGA AND MEDITATION RETREAT
GREEN GULCH ZEN CENTER


Nov. 13 - Nov. 15, 2015 Mt. Tamalpais, Marin County, CA
This inspiring weekend is all inclusive and is one of the most popular
"Power of Yoga Retreats". Learn more about this retreat
"A Weekend of Yoga and Meditation"
Click here for 2015 information.
This retreat continually sales out reserve your space.
Asana Fit San Clemente Presents: Sherri Baptiste

A challenging and intermediate level yoga class geared toward yoga instructors and students in training with at least twelve months of regular practice.

Sun Date: May 26, 2013 From: 9:00 AM - 11:00 AM
---
102 Ola Vista (Between Del Mar & Granada)
San Clemente, CA 92672
Phone (949) 492-0110



POWER of BAPTISTE YOGA INTERMEDIATE with Sherri Baptiste



Investment: $40 before May 19
$45 after May 19
Montage Spa Laguna Beach
Presents Sherri Baptiste for a One Day Retreat

Link to Montage Laguna Beach One Day Retreats with Sherri Baptiste
Dates for 2013 are Feb. 9, May. 25, Aug. 11, and Nov. 16.
MAY 25: ANTI AGING FOR BODY AND BRAIN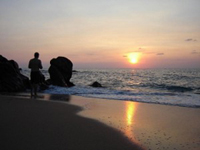 Feathered Pipe Ranch Presents
Baptiste Power of Yoga
Women's Retreat
Sherri Baptiste and Michele Hebert
Haramara Retreat, Mexico
April 27-May 4, 2013

Celebrate the New Year.
Kickstart your health and fitness program at
RANCHO LA PUERTA WITH SHERRI BAPTISTE!
December 29 – January 5, 2013

Sherri Baptiste will teach daily classes
Baptiste Power of Yoga, Yoga with Weights:
Baptiste Method™ and Breathwork/Pranayama.
Learn more about this event at the Rancho La Puerta website


Teacher Training, Retreats and Meditation
SHERRI BAPISTE OFFERS YOGA TEACHERS TRAINING


ADVANCING YOGA STUDIES
200 and 500 hours Yoga Alliance Yoga Teacher Training
Yoga Teacher Certification Qualifies You for Membership with Yoga Alliance and International Association of Yoga Therapists
Contact us for upcoming teachers training dates.
---
YOGA RETREAT FAQ


Interested in atteding a yoga retreat and not sure what to expect?
Read the Yoga Retreat FAQ's
Sherri Baptiste is an inspirational yoga teacher at the forefront of yoga training and the author of Yoga with Weights for Dummies. Born and raised in San Francisco, the daughter of two yoga-health-fitness pioneers, Magana and Walt Baptiste, along with her brother the well known yoga instructor Baron Baptiste. Sherri has been involved with and teaching yoga since her teens. The founder of Baptiste Power of Yoga, a nationally recognized yoga method, is registered with the International Association of Yoga Therapists
and she leads teacher training programs recognized by Yoga Alliance E-RYT 500.
---
Meditation
Studies show that meditation triggers measurable changes in brain areas associated with awareness, empathy, improved sense of self and reductions in stress. This seem to be associated with decreased gray matter density in the amygdala, which plays a role in anxiety and stress. Meditation works with the brain's plasticity, playing a role in changing the brain; increasing well-being and quality of life. Meditation is a powerful technique to relieve stress, maintain health and promote vitality.
More information about techniques and tips to enhance your meditation:
Two Minutes a Day to Real Change
Mindfulness and Meditation Practice
A regular meditation practice can bring you:
decreased anxiety
decreased depression
decreased irritability and moodiness
improved learning ability and enhanced memory
greater creativity
increased feelings of vitality
increased happiness
increased emotional stability